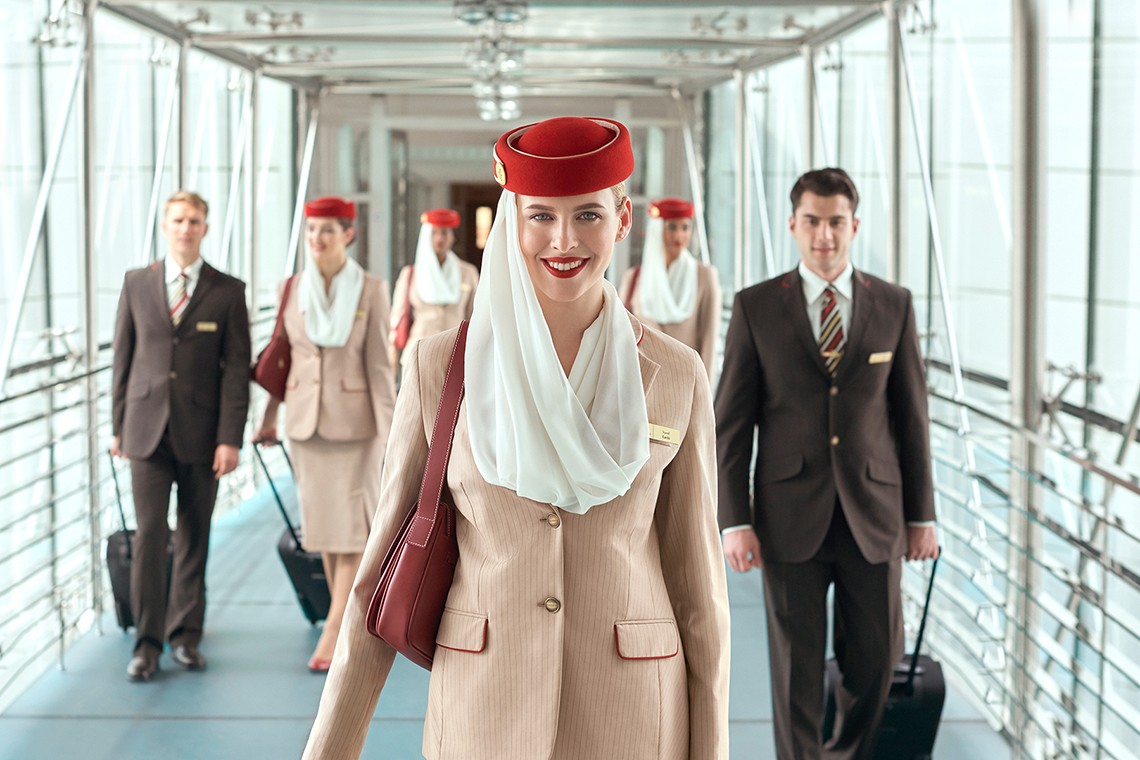 The best job in the world
Do you dream of waking up in Rio de Janeiro, exploring the sights of Sydney, and sampling the food of Singapore? If you do, then join Emirates as cabin crew and see the world as part of your career.
Many of our cabin crew describe the role as "the best job in the world", not only because they deliver award-winning service at 38,000 feet, but also for the unique lifestyle that comes with the job:

Non-stop new adventures
With Emirates serving over 150 cities across 85 countries, every day is a new opportunity to experience somewhere new.

The world's largest airline
Represent a leading airline brand as you wear our iconic uniform and travel the world on our Boeing 777 and Airbus A380 aircraft.
The best job in the world
Live in Dubai
All Emirates cabin crew live in the exciting city of Dubai, United Arab Emirates. This means you'll earn a tax-free salary, have your accommodation provided by Emirates and have plenty of opportunity to sample this unique, vibrant & multicultural city.

Friends for life
Our cabin crew community is over 20,000 strong and you'll make friends for life from every corner of the globe, from the very first day of training.

Travel benefits
Continue to travel the world in your free time - with concessional tickets on Emirates and other airlines, as well as special perks with many other hotel/travel providers.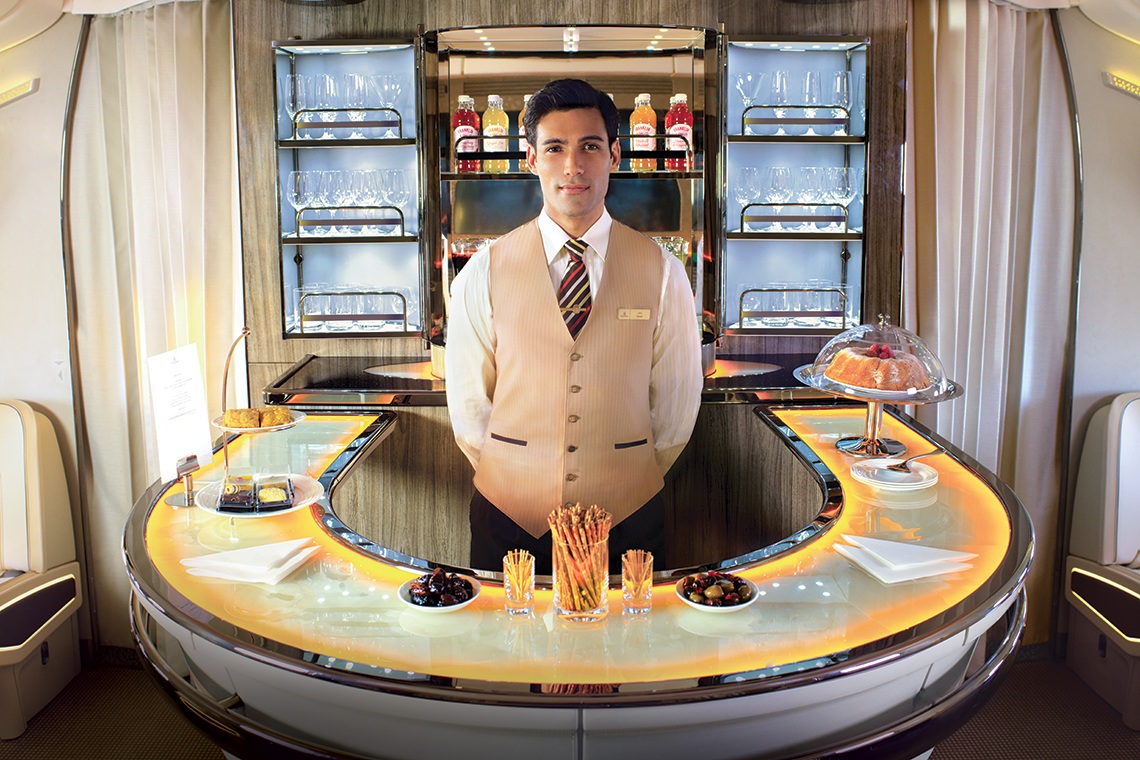 Who we are looking for
To be considered for Emirates cabin crew you'll need to be:
Fluent in written and spoken English (additional languages are an advantage)
A natural team player with a personality that shines
At least 160cm tall and able to reach 212cm high
Able to meet the UAE's employment visa requirements
And have:
At least 1 year of hospitality or customer service experience
A minimum of high school (Grade 12) education
No visible tattoos while in Emirates cabin crew uniform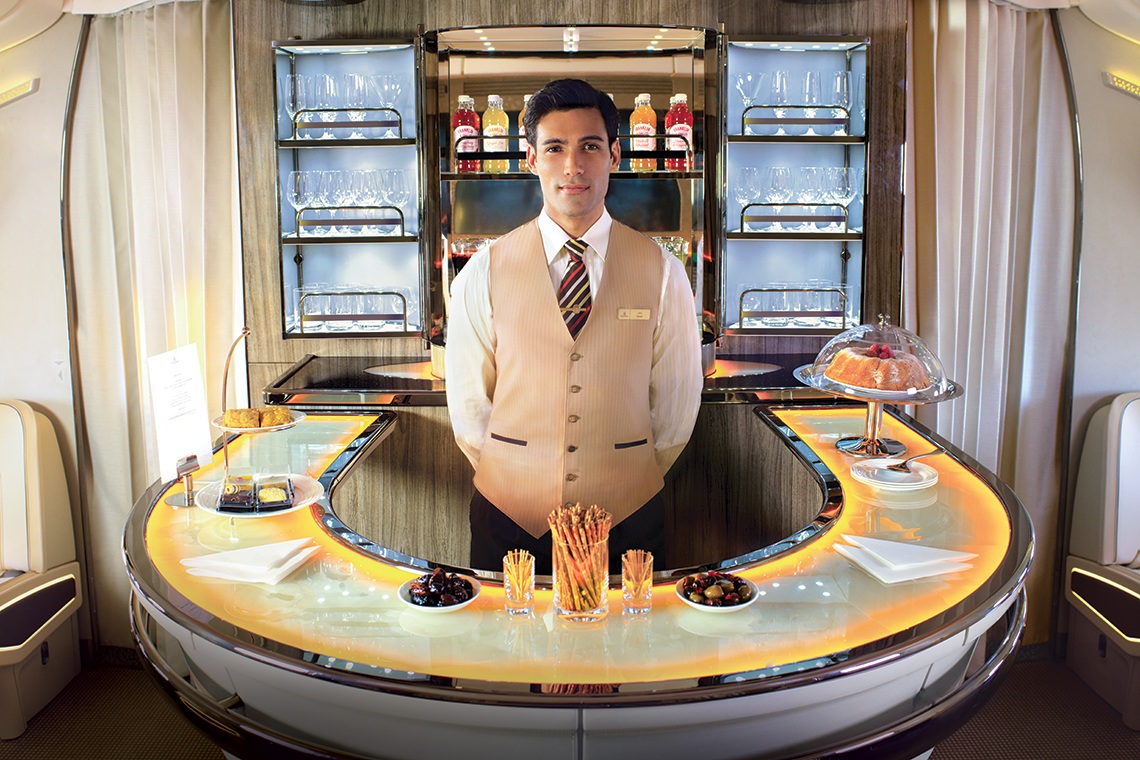 Upcoming recruitment events
We're travelling around the world to find the best candidates for our cabin crew team. Don't see your city? Apply online and we'll inform you when we are visiting nearby.
Open day
Walk into any of our Open Days happening all over the world. You don't have to submit your application before you attend. Candidates are advised to read the requirements and arrive at the Open Day venue by the start time to register.
Invite only
Candidates are required to complete an application online to be shortlisted to attend for our invitation-only recruitment events.
Recruitment event dress code
Our 7-step cabin crew training process
Our new recruits undergo an intense seven and a half weeks of training in the highest standards of safety and service delivery in our state-of-the-art facility in Dubai. Learn more about the training journey.
STEP 1
INDUCTION
Duration: 8 days
Induction week will provide information to assist and support you during your transition into your new environment, within Dubai and throughout your training.
STEP 2
SEP
Duration: 13 days
Safety & Emergency Procedure Training will  provide you with the skills and knowledge to ensure our aircraft and passengers remain safe at all times. The Training covers Aircraft equipment, fire-fighting, in-flight emergencies and evacuation.
STEP 3
GMT
Duration: 5 days
Group Medical training will equip you to be able to confidently manage any medical incident on-board. You'll cover topics such as CPR, bleeding, burns, emergency childbirth and a variety of medical conditions.
STEP 4
SECURITY
Duration: 2 days
Security Training will provide you with guidelines, skills and techniques to prevent and manage acts of unlawful interference , such as unruly behavior, hijacking and sabotage, as well as addressing personal security concerns.
STEP 5
Uniform Standards
Duration: 1 day
Image and uniform training will give you the skills and knowledge to project a professional image in line with the Emirates brand, You will cover uniform standards, skincare, make-up, hair care, nail care and a healthy lifestyle.
STEP 6
SERVICE PERSONALITY
Duration: 1 day
Are you ready to shine? Emirates is one of the biggest stars in the sky. Only you can make it the brightest.
STEP 7
SERVICE
Duration: 14 days
14 days Service Training, up to 4 months On the Job learning and development and 3 days Service Assessments to equip you with the knowledge and skills required to deliver 'World's Best In-Flight Experience'
Pay and benefits
Travelling becomes more than part of your job, it becomes your lifestyle; and our concessional travel tickets make it easier to explore new cities outside of your layovers. That's just one of the incredible rewards we offer you, here's what you can look forward to
Starting Salary & Flying Pay

Basic salary

AED 4,430 / month


Flying Pay

AED 63.75 / hour


based on avg. 80-100 hours / month

Average Total Pay

AED 10,170 / month


(~USD 2,770, EUR 2,710 or GBP 2,280)

* These are approximate numbers for Grade II (Economy Class)

Layover expenses

Meal allowances for night stops are credited to the salary in arrears the following month. Hotel accommodation as well as transport to and from the airport is provided by the company.

Concessional travel

Staff travel benefits on Emirates Airline can be availed as per the Staff Travel Manual. Staff travel benefits on other airlines can be availed as per inter-airline agreements/policies.

Accommodation

Furnished accommodation is provided free of charge, including utilities -water, electricity. TV, Internet and telephone bills are not included. There are more than 50 buildings in various locations throughout Dubai that you can be placed in. Two/three colleagues (same gender) share a two/three bedroom apartment and each have their own bedroom but share the kitchen and the living area. Two people may have to share a second bathroom in some three-bedroom apartments.

Once probationary period is complete you may request to move to another apartment pending availability. Due to varying rosters of occupants and to ensure security, there are no visitors allowed past 01:00 unless they are Emirates (EK) crew. You may have two family members visit at the same time and stay in your accommodation twice a year for a maximum of 30 days each visit.

Transport

Transportation is provided by the company to/from work and to/from Training College.

Uniform

Provided by the company free of charge, incl. dry-cleaning in designated outlets in Dubai.

Leave & Leave Travel

30 calendar days leave per year. One firm free annual leave ticket is provided to your country of origin. The ticket can be changed to any EK destination after 3 years of service.
Frequently asked questions